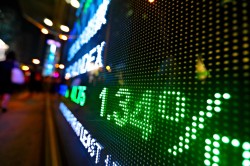 ValuEngine upgraded shares of Taoping (NASDAQ:TAOP) from a sell rating to a hold rating in a report published on Wednesday, January 2nd.
Separately, Zacks Investment Research upgraded Taoping from a hold rating to a buy rating and set a $1.00 target price on the stock in a research note on Wednesday, December 26th.
Shares of Taoping stock remained flat at $$1.09 during midday trading on Wednesday. The company had a trading volume of 47,882 shares, compared to its average volume of 208,241. The stock has a market cap of $45.52 million, a P/E ratio of 9.08 and a beta of 1.54. Taoping has a 52 week low of $1.00 and a 52 week high of $2.64.
Taoping (NASDAQ:TAOP) last issued its earnings results on Wednesday, November 21st. The company reported $0.03 EPS for the quarter. The business had revenue of $5.12 million for the quarter. On average, research analysts forecast that Taoping will post 0.06 EPS for the current year.
Taoping Company Profile
Taoping Inc provides cloud-based platform, resource sharing, and big data solutions to the Chinese new media, education residential community management, and elevator Internet of Things (IoT) industries primarily in the People's Republic of China. The company operates in two segments, Cloud-based Technology and Traditional Information Technology.
See Also: How interest rates affect municipal bond prices
To view ValuEngine's full report, visit ValuEngine's official website.
Receive News & Ratings for Taoping Daily – Enter your email address below to receive a concise daily summary of the latest news and analysts' ratings for Taoping and related companies with MarketBeat.com's FREE daily email newsletter.